Safety:
* Up to 4,800,000 Australian Motorists are riding around on under-inflated tyres
* 80% of motorists fail to regularly check their tyres
* 75% of roadside flats are preceded by a slow leak or under inflation The most critical safety component on a vehicle (tyre pressure), is commonly overlooked until its often too late.
Installing a TPMS unit allows for the constant monitoring of tyre pressure, hence improving braking efficiency and reducing accidents related to under or over inflated tyres.
Cost Savings:
Fuel consumption increases when tyres are incorrectly inflated. Research shows that tyres which are under-inflated by 6 PSI can increase fuel consumption by 2% and tyre wear by 25%.
Correct tyre inflation saves money!
TPMS Retrofit kit, is suitable for installation in all vehicles.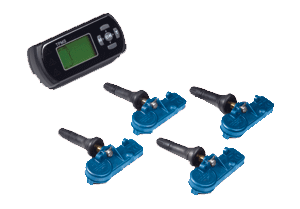 The AirAware™ Retrofit Kit has the following features:
OE quality designed for the aftermarket (the first global system with OE approved sensors).
Easy Installation: The only system with snap-in valves Wireless Battery Operated System
Fully patented sensor design.
Provides a constant and continuous reading on tyre pressure and temperature.
The AirAware™ Retrofit Kit Benefits:
Measures and displays Tyre air Pressure & Temperature
Improves Fuel Economy
Reduces Tyre Wear
Better Traction
Reduces Engine Wear
Reduces Risk of Accidents
Will Not Affect tyre Balancing
Long Service Life
Reacts to Fast and Slow leaks (< 5secs) for early warning
Warns for Punctures
Self Learning i.e. does not require initialisation or zero button
Can monitor spare tyre pressure (optional)
Can monitor tyre pressure when stationary and deliver key-on information
The Complete Kit includes 4 sensors, a dash mounted receiver, and batteries.