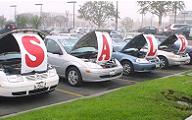 Mansfield Motors offer the ability to conduct a Road Worthy or Safety Certificate. A Safety Certificate is a compulsory certification required if you are looking to sell, or transfer ownership of your vehicle.
Safety certificates can only be issued by Approved Inspection Stations.
Mansfield Motors is approved by Queensland Transport to conduct inspections and issue safety certificates.
For more information about safety certificates refer to Queensland Transport